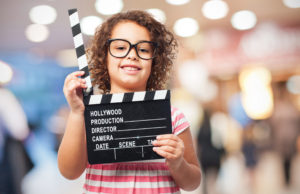 Attention parents/guardians with kids ages 8-13 years old…
Learn digital media storytelling at CMAC!
Tuesday, July 31 through Friday, August 3, 2018 • 9am to 12:30pm
Is your child interested in video and movie making? Then this is the perfect summer educational opportunity! CMAC's expert staff members will guide your child through a fun and exciting four-day filmmaking camp. They will produce, direct and act in a short film developed from an original script. They'll learn about filmmaking using iPad camera kits, lighting, and editing with iMovie software.
Campers will receive a CMAC t-shirt, daily snacks, a flash drive containing their short film, and a 1-year CMAC membership. We will screen the short films for the campers, their family and friends on the last day of camp Friday, August 3 at 11:30 a.m. The films will also air on CMAC's Education channel on Comcast 94 and AT&T 99. Cost: $75 per attendee. Limited to 15 attendees, ages 8-13.
We have reached capacity for this year's youth summer camp. However, there's the possibility that someone who has registered may cancel. If you would like to be placed on our wait-list in case of cancellations, please email Kyle Lowe at kyle@cmac.tv or call 559-266-2622. Thank you for your support!
Important Info
Questions? Contact CMAC's Training Coordinator Kyle Lowe at kyle@cmac.tv or 559-266-2622.
Looking for workshops for ages 14 or older? Check out our regular workshop schedule.
What is CMAC? CMAC is a 501(C)3 non-profit organization dedicated to empowering voices in our community through media. We provide individuals, students, educators, agencies and organizations with the tools and training they need to create high-quality media to share with the community.
Where will the summer camp take place? CMAC's Community Media Center at 1555 Van Ness Ave, Fresno, CA 93721.
Rules and Regulations
1. Safety. Do not hurt anyone, including yourself. Do not damage CMAC equipment or facilities.
2. Respect. Be considerate. Bad attitudes are not tolerated. Respect the differences of everyone at CMAC.
3. Timeliness. Arrive on time. Notify CMAC staff ahead of time if leaving early or missing a session. Do not leave the premises without notification.
4. Cleanliness. Clean up after yourself. No food or drink near the computers, video equipment, in the studio or lab.
5. Keep in mind, we are here to be creative and have fun. This might mean something different to each of us. Remember to always respect each other's differences.
Parent Reminders
1. Please make sure kids eat breakfast before camp. Healthy snacks and water will be provided. Students may bring a bagged lunch if they would like.
2. No drop-offs before 8:45 a.m. No pick-ups after 12:45 p.m. If pick-ups are more than 15 minutes late, a fee of $20 will be charged.
Cancellations
You may cancel your camp registration by contacting us at 559-266-2622 or kyle@cmac.tv. You will receive a full refund if you cancel before Monday, July 17. Cancellations after that date will not receive a refund.