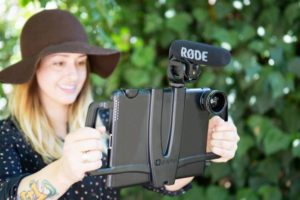 CMAC is partnering with the Fresno County Public Library during the month of July to offer a FREE one-hour "iPhone Film School" workshop for teens.
The best camera is the one that you have with you. Learn how to shoot and edit great looking videos with your mobile devices. Play with CMAC's Mobile Production Kit or bring your own iPhone or iPad with the iMovie app installed. You do not need to be a CMAC member to sign-up for these FREE one-hour workshops.
Sign Up Today!
Click here to visit the Fresno County Public Library's website, then identify the workshop at the day, time, and library branch you desire. Fill out the sign up form and you're good to go!
Thursday, July 13 at 3pm
West Fresno Branch Library
188 E California Ave, Fresno, CA 93706
Tuesday, July 18 at 2pm
Woodward Park Regional Library
944 E Perrin Ave, Fresno, CA 93720
Wednesday, July 19 at 4pm
Sunnyside Regional Library
5566 E Kings Canyon Rd, Fresno, CA 93727
Thursday, July 20 at 4pm
Clovis Regional Library
1155 5th St, Clovis, CA 93612
Friday, July 21 at 2pm
Fig Garden Regional Library
3071 W Bullard Ave, Fresno, CA 93711
Wednesday, July 26 at 3:30pm
Betty Rodriguez Regional Library
3040 N Cedar Ave, Fresno, CA 93703
Thursday, July 27 at 4pm
Gillis Branch Library
629 W Dakota Ave, Fresno, CA 93705